2020 Online Patient & Community Symposium
 A recording of the QCGC Research Patient Symposium now available to watch online.
Thank you to everyone for tuning into our first online Patient Symposium.  For those of you that would like to listen again or experienced any connectivity issues. Click here, here is the link to the recording.
We sincerely thank AstraZeneca for sponsoring our Patient Symposium for the fourth consecutive year and really appreciate their support.
The recording of the symposium has been uploaded to YouTube - here is a breakdown of the timings for each speaker so you can scroll to individual presentations with ease:
Professor Pedro Ramirez  |  begins at 00:05:00
Dr Mary Playdon  |  begins at 00:30:30
Professor Penelope Schofield  | begins at 00:51:30
Dr Jeffrey Goh  |  begins at 01:21:00
Professor Andreas Obermair  |  begins at 01:42:44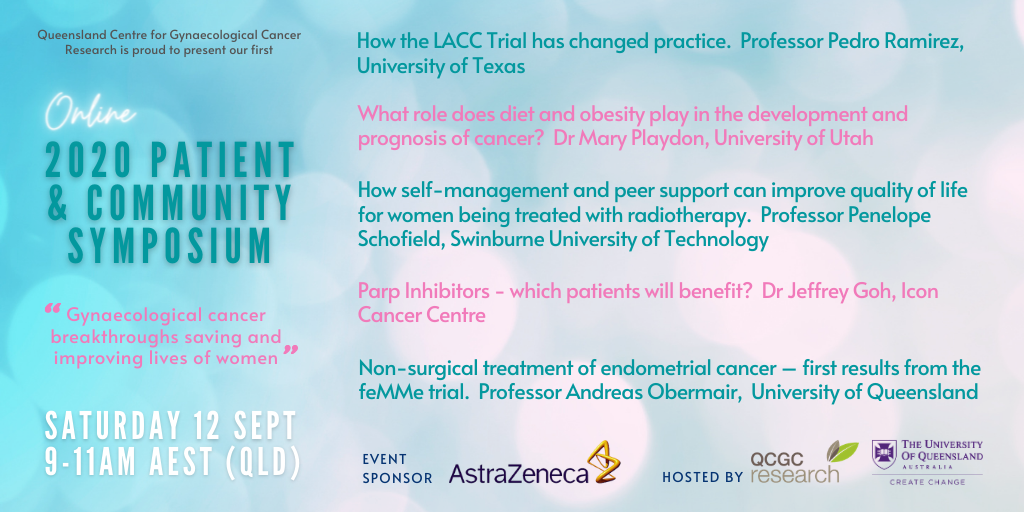 ---
With travel restrictions and social distancing due to COVID-19, QCGC Research had to find a new way to deliver our Patient and Community Symposium in September. We're excited to announce it's going virtual, which means more women, their families and health teams can join us from anywhere in the world!
This year's theme is Gynaecological cancer research breakthroughs saving and improving lives of women. Book your virtual seat to this free event now by emailing e.capaldi@uq.edu.au. QCGC Research can only send you the Zoom link once you're registered.
Below on the first page you will find the speakers and topics.  On the second page, a little prelude on what each speaker will be presenting about.  Click here to download a version to print.