Worldwide trial proves new standard of care for uterine cancer patients should be implemented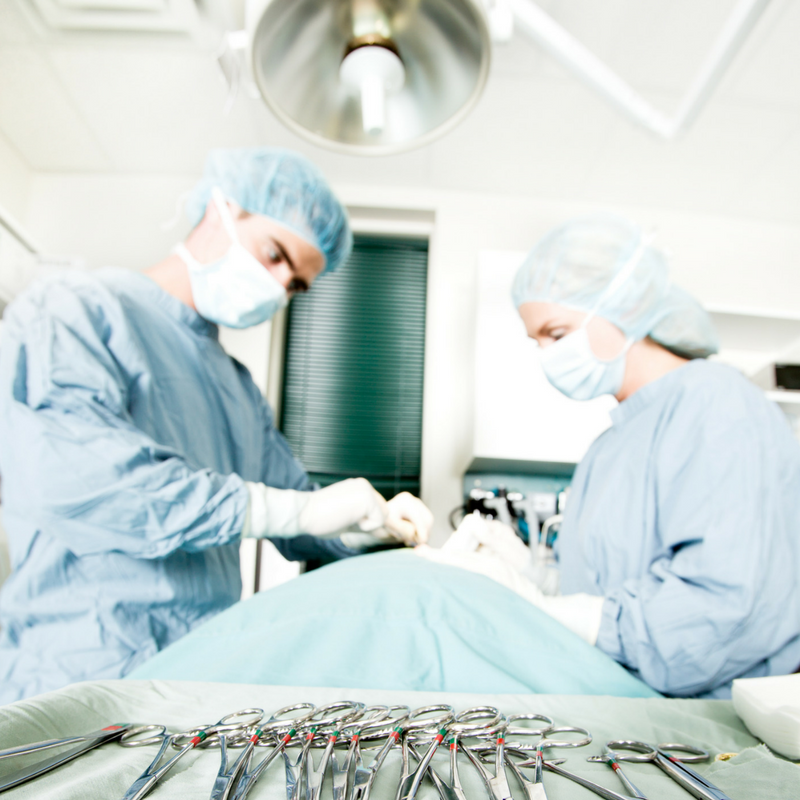 Professor Andreas Obermair of The University of Queensland's Queensland Centre for Gynaecological Cancer (QCGC) Research led the LACE research study to compare patient outcomes from hysterectomy for uterine cancer and said the results are clear.
"The study published in JAMA today convincingly shows that early stage endometrial cancer survival following either minimally invasive or 'open' hysterectomy is the same. In addition, the risk of recurrence is equivalent between the two techniques," Professor Obermair said.
"As a result of 15 years of research it has become widely accepted that there are substantial short-term benefits for women having a minimally invasive hysterectomy; for example, less pain and less complications", he said, "however, we hadn't known how the survival outcomes of the new operation would compare with the traditional surgical approach until now".
Professor Obermair thanked his colleagues from all around Australia who participated in the study, and also the 760 women who willingly underwent experimental surgery and helped to make these important findings.
"Bolstered by similar efficacy and a better safety profile, we are now confident that laparoscopic keyhole surgery, if feasible, is the superior approach in women with early stage endometrioid uterine cancer."
Every year, more than 2,000 Australian women require a hysterectomy for uterine cancer (cancer of the womb). Hysterectomy for uterine cancer can be done through traditional ways (abdominal incision) or minimally invasive methods (laparoscopic hysterectomy). 
The study showed that adopting minimally invasive surgery as a preferred standard of care for uterine cancer patients, can prevent 120 Australian patients from developing a severe surgical complication every year; can save 2000 patients from staying in hospital for 5 days compared to only 2 days this year; and funders of healthcare $8 million per annum in health care expenditure.
"There are many advantages of minimally invasive, laparoscopic hysterectomy for patients and also for funders of health care – with few downsides. Women who need a hysterectomy for uterine cancer should have a serious discussion regarding a minimally invasive procedure", said Prof Obermair.
Associate investigator of the LACE trial Professor Monika Janda from Queensland University of Technology's Institute for Health and Biomedical Innovation said that for women the minimally invasive approach has many advantages with less pain and quicker recovery allowing them to return to their usual activities such as work or caring for their family quicker. This is very important for women who don't want to spend more time than necessary in hospital.
"When we started this trial in 2005, many people were concerned that women had to trade better quality of life against a possibly shorter survival," Prof Janda said. "Our data now clearly shows that this is not the case and women can have better quality of life at similar survival outcomes."        
From 2005 to 2010, 27 surgeons from 21 cancer centres in Australia, New Zealand, Hong Kong and Scotland enrolled 760 patients into the LACE trial, comparing minimally invasive (laparoscopic) surgery with the traditional open surgery through an abdominal incision.
The mean age of all patients on the LACE trial was 63 years and all patients were checked regularly for 4.5 years after surgery.
In the study, the incidence of a complication after surgery was only 12.9% for patients who had minimally invasive surgery compared to 18.6% for patients who had the traditional hysterectomy through an abdominal incision.
Similarly, the average length of hospital stay was only 2 days in patients who had minimally invasive surgery compared to 5 days for patients who had the traditional hysterectomy through an abdominal incision.
Reassuringly, disease-free survival was almost identical. It was 81.3% at 4.5 years in the traditional surgery group and 81.6% in the minimally invasive group.
Professor Robert L. Coleman from the U.S. M.D. Anderson Cancer Center in Houston, Texas believes the LACE trial was urgently needed to confirm the impact of minimally invasive surgery for early stage uterine cancer.
"The ambitious trial was designed to appropriately evaluate surgical and survival outcomes of the two most practiced interventions in this setting" he said. "The international community of gynaecological cancer specialists will be excited to hear about the LACE trial results and should be reassured of the value that a minimally invasive approach brings to the management of early stage uterine cancer".
Prof Obermair argues that the research, which was conducted on cancer patients also has implications for women requiring a hysterectomy for non-cancer reasons.
"30,000 women in Australia each year require a hysterectomy for many different reasons and there is basis to say they shouldn't have the traditional operation either.
"Given the very severe disadvantages of open hysterectomy (longer recovery, higher pain and complications) many women who need a hysterectomy for reasons other than cancer should discuss with their specialist if they are suitable for a laparoscopic approach," Professor Obermair said.
Professor Obermair and his team are also progressing additional clinical trials such as the feMMe trial to reduce the side effects of endometrial cancer treatment in high risk groups such as obese women.
The research is published here.
The LACE trial has been funded by Cancer Council Queensland, Cancer Council New South Wales, Cancer Council Victoria, Cancer Council Western Australia; NHMRC project grant 456110; Cancer Australia project grants 631523 and 1098905; The Women and Infants Research Foundation, Western Australia; Royal Brisbane and Women's Hospital Foundation; Wesley Research Institute; Gallipoli Research Foundation; Gynetech; TYCO Healthcare, Australia; Johnson and Johnson Medical, Australia; Hunter New England Centre for Gynaecological Cancer; Genesis Oncology Trust; Smart Health Research Grant/QLD Health, The Cherish Women's Foundation.
Media: Andreas Obermair, rooms@obermair.info, 0411 800 029 (mobile)
Bernadette O'Connor, bernadette.oconnor@uq.edu.au, 07 3365 5118, 0431 533 209
---
About uterine cancer ...
What is uterine cancer?
Uterine cancer, commonly known as cancer of the uterus, cancer of the womb, endometrial cancer or cancer of the lining of the womb, is the most common form of gynaecological cancer.
Who does it affect?
In 2016, it was estimated that 2,652 women were diagnosed with uterine cancer in Australia
It is estimated that there were 441 deaths from the disease in 2016.
90% of women diagnosed with uterine cancer are over the age of 50.
10% of all patients are below the age of 40.
The average age of diagnosis is 64 years.
What are the causes?
The exact cause of uterine cancer is not known; however, risk factors include:

Obesity
A genetic condition called "Lynch Syndrome"
High blood pressure and diabetes
Endometrial hyperplasia
Menopause, never having children or being infertile
A family history of uterus, breast cancer or bowel cancer
Taking  oestrogen hormone replacement without progesterone
Taking tamoxifen or anastrozole for treatment of breast cancer.
Is the diagnosis easily established?
There is currently no effective screening for early detection of uterine cancer.
Most women are diagnosed at early stages of development.
20% to 30% of women are unlucky and either have aggressive variants of uterine cancer or are diagnosed at advanced stages, often leading to poor prognosis.
What are the symptoms?
The most common presenting symptom is abnormal vaginal bleeding, especially bleeding between menstrual periods or after menopause.
How is it treated?
Hysterectomy is the current standard treatment for women diagnosed with uterine cancer.
In most cases, women will also have a bilateral salpingo-oophorectomy (removal of the fallopian tubes and ovaries)
Some women will require chemotherapy, radiation treatment or a combination of those postoperatively
Most women will be offered follow up for some years.
What is the difference between vaginal hysterectomy, open hysterectomy and laparoscopic hysterectomy?
Vaginal hysterectomy:
A procedure in which the uterus is surgically removed through the vagina.
Vaginal hysterectomies make up 50% of all hysterectomy surgeries in Australia.
Open hysterectomy:
A procedure in which the uterus is surgically removed via an incision made in the abdomen. This incision can be Up-and-Down (vertical midline) or transverse (crosswise) above the pubic line.
Open hysterectomies make up 40% of all hysterectomy surgeries in Australia.
Laparoscopic hysterectomy:
A procedure, which involves inserting a 'keyhole' telescope through a small incision in the navel, plus three or four 5 mm incisions through which other instruments are used.
Laparoscopic hysterectomies make up just 10% of all hysterectomy surgeries in Australia.
About the Queensland Centre for Gynaecological Cancer Research
QCGC Research is a research unit within the Centre for Clinical Research (UQCCR) at The University of Queensland. We research and develop the best standard of care for women experiencing gynaecological cancer. We aim to:
Find causes for gynaecological cancer
Prevent gynaecological cancer
Offer better treatment options for gynaecological cancer.
For more information: