Professor Obermair on The Battle's positive side effects
Gynaecological cancer is not a lot of fun for anyone – patient, doctors, family or friends. So it's refreshing that the biggest fundraiser for research into kinder treatment for gynaecological cancer is an upbeat, vibrant and fun beach volleyball competition – The Cherish Battle.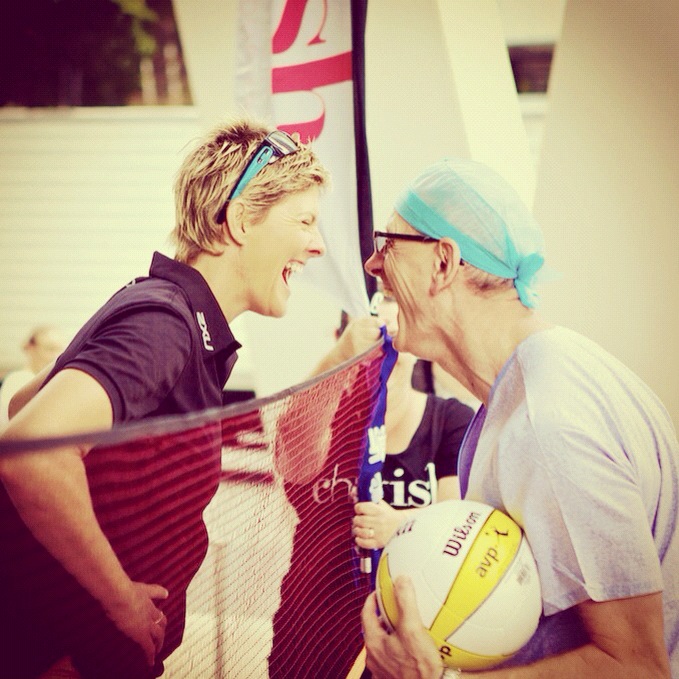 Now in its seventh year, The Battle has brought together more than 1,500 competitors and raised over $650,000 for gynaecological cancer research. QCGC Research has been the event's research partner from the very beginning. In addition to helping establish QCGC Research in 2003, Professor Andreas Obermair also co-founded the Cherish Women's Cancer Foundation in 2012, which he now chairs. That same year, Professor Obermair was instrumental in getting The Battle started. Here we ask him about its impact.
Q: Why do you think The Battle has been so successful?
A: I think because it really is just so much fun – it's light-hearted, very Queensland – casual and friendly – and people know it's for a good cause. Participants know the funds they raise go to research.
Q: What is the most important thing that The Battle has achieved over the years?  
A: Without a doubt, the most important thing is that it has helped QCGC Research to continue its work. To put it simply, without this non-government income, QCGC Research would have shut its doors. It would not exist anymore.
The Battle's fundraising has enabled life-changing research to take place – such as injecting much-needed funds to the LACE trial. Cherish's support enabled the research team to undertake critical data analysis and preparation of research papers to disseminate the outcomes to patients, health care community and government. So, I can confidently say that The Battle has not only saved lives, it has saved millions of dollars in health care costs.
Q: What are the other positive side effects to The Battle?
A: Aside from the money it raises, there are three. First, we continue to build a strong community of supporters who know how much fun it is to take part and understand why it's so important. Second, we are raising awareness about the symptoms of, and treatment options for, gynaecological cancer. I'd like to think we get people talking about it and remove some of the stigma. Third, for women and girls diagnosed with gynaecological cancer, The Battle helps them to see that people care. They can see that there are people devoted to finding a better way to treat this disease.
Q: This year, The Battle participants raised over $100,000 for gynaecological cancer research. Could you tell us how these funds have been used?
A: Well, it's important to know that 100% of what is raised goes to research. We recruit sponsors who cover the cost of the event so that this can happen. We also rely on lots of volunteers who give their time and energy to The Battle.
This year's fundraising has helped support the next flagship trial – FeMMe. This trial will result in a paradigm shift in the way we treat endometrial cancer. We currently have 107 women enrolled of 165 we need to complete it successfully.
The funds also help QCGC Research to employ a senior research fellow. The fellow writes up research outcomes for scientific papers. For example, data was used from our LACE trial to show that a hysterectomy does not result in pelvic floor problems, which was a common perception and concern shared by many gynaecological cancer patients. We'll present this new finding at an international conference in the coming weeks. 
Q: Congratulations on becoming the Chair of Cherish this year. As Chair, how would you like to see The Battle evolve?
A: Every year, we ask ourselves if we should continue The Battle and every year the answer is a resounding 'yes'. It fulfils the dual purpose of raising fun and funds. But I would like The Battle to become a platform where our sponsors can present themselves to a larger audience.
In a broad sense, as Chair, I'm very aware that I'm building on the efforts of all previous Chairs. I would like to create more stability for Cherish. I think we can achieve this by demonstrating our value and the contribution we have already made to society. If we do this well, I hope we can form strategic partnerships as long and as rewarding as the research trials we support.
To register or find out more information on The Battle, visit the official Battle website here.