ENDO-3 trial to address a 30-year knowledge gap in endometrial cancer treatment
University of Queensland (UQ) researchers will determine the benefits of sentinel lymph node removal during surgery for early-stage endometrial cancer, securing a $3.1 M Australian Government grant for the international clinical trial.
UQ's Queensland Centre for Gynaecological Cancer (QCGC) Research Director, Professor Andreas Obermair, said the ENDO-3 trial could revolutionise how doctors treat women with endometrial cancer globally.
"The standard treatment for early-stage endometrial cancer is a hysterectomy and lymph node dissection, despite its effectiveness never being proven," Professor Obermair said.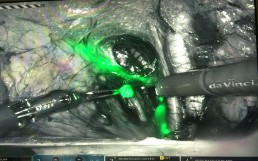 "Doctors use lymph node dissection to determine the extent of the disease, but there is no evidence of patient benefit, and it may increase risk by prolonging the operation and anaesthetic time, delaying recovery and increasing the potential of adverse events.
"Patients express concern that the current surgical approach may cause more harm than good.
"ENDO-3 will directly address patient and clinician concerns and a 30-year knowledge gap, finally establishing the effectiveness, benefits and risks of sentinel lymph node removal.
"Ultimately, we aim to reduce the potential for unnecessary overtreatment of women with endometrial cancer," Professor Obermair said.
In Australia, endometrial cancer is the most common gynaecological cancer, with more than 3,000 women treated annually.  
ENDO-3 is one of QCGC Research signature trials aimed at improving gynaecological cancer treatments.
Professor Obermair said the National Health and Medical Research Council grant is the largest the research team has received and a welcome boost as the centre marks its 20th anniversary.  
"For 20 years, we have been advocating for greater research funding because we know the treatment options that we currently have for women with gynaecological cancer are outdated, and patients deserve better," Professor Obermair said.
"We are grateful for generous philanthropic support from individuals and charities such as the Cherish Women's Cancer Foundation, GC RED Society, RBWH and RBWH Foundation and Wesley Medical Research which enabled us to kickstart ENDO-3 and prove that the concept had merit.
"With the NHMRC Grant, we can progress the ENDO-3 trial and expand to international collaboration.
"ENDO-3 has already attracted unparalleled support from the international gynaecological oncology community because they recognise the trial results will support better treatment decisions," Professor Obermair said.
ENDO-3 is a Phase III randomised controlled clinical trial involving a multidisciplinary team of surgeons, doctors, radiation oncologists, exercise physiologists, and behavioural and molecular scientists.
During the five-year trial, the team will randomise 760 patients with stage I endometrial cancer to surgery with or without sentinel lymph node dissection, determining the probability of disease-free survival at four years and measuring patient-focused outcomes, such as recovery from surgery, adverse events, lymphoedema, the requirement for postoperative adjuvant therapy, costs, cost-effectiveness, and the impact of molecular factors on the risk of lymph node metastasis and survival.
So far, 158 patients have been enrolled in ENDO-3 with 16 accredited surgeons. Patients are being recruited from six sites throughout Australia.
More information about ENDO-3 can be found here.