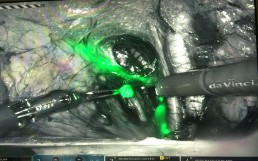 The #ENDO3trial is a big step towards generating evidence in surgical treatment of endometrial cancer.
It is a randomised controlled trial that compares Sentinel Lymph Node Dissection (SLND), a commonly performed procedure for the surgical staging of endometrial cancer, to No Node Dissection.
The outcomes from this world-first trial will provide high-level evidence on sentinel lymph node dissection's effectiveness, benefit and harm to patients and will determine the value of retaining or discontinuing this procedure in the treatment of apparent early stage endometrial cancer.
The ENDO-3 trial opened for recruitment in January 2021 at the Royal Brisbane & Women's Hospital and The Wesley Hospital. The first patient was enrolled in February 2021 and the aim is to recruit 760 patients. Currently we have 8 Australian sites collaborating on the ENDO-3 Trial with more in the pipeline, including international sites.
177 patients have been enrolled to date from 8 Australian sites:
Buderim Private Hospital, QLD
Chris O'Brien Lifehouse, NSW
Mater Hospital, QLD
North West Private Hospital, QLD
Royal Brisbane & Women's Hospital, QLD
St Andrews War Memorial Hospital, QLD
The Royal Womens Hospital, VIC
The Wesley Hospital, QLD
20 surgeons, both nationally and internationally, have successfully passed accreditation in Sentinel Node Biopsy (SNB) as part of the ENDO-3 Trial, with another 11 currently undergoing the process!
A/Prof Rhonda Farrell, Dr Michael Burling, Dr Naven Chetty, Dr Nisha Jagasia, Dr Nimithri Cabraal, Dr Shaun McGrath, Dr Piksi Singh, A/Prof Russell Land, Dr Nicole Krzys, A/Prof Orla McNally, Prof Andreas Obermair, Dr Rhett Morton, Prof James Nicklin, Dr Andrea Garrett, Dr Deborah Neesham, Dr Guilherme Accorsi, Dr Jagannath Mishra, Dr Stefano Restaino, Dr Pearl Tong, and A/Prof Behrouz Zand.
Masterclass: SNB in Endometrial Cancer - 18 July 2022
Recently we ran a Masterclass in SNB for Endometrial Cancer.  To watch this recording, register here and use passcode g+rfG%3E to view.