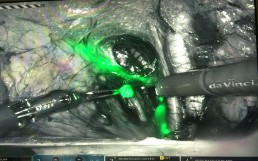 The #ENDO3trial is a big step towards generating evidence in surgical treatment of endometrial cancer.
It is a randomised controlled trial that compares sentinel lymph node dissection, a commonly performed procedure for the surgical staging of endometrial cancer, to no node dissection. The outcomes from this world-first trial will provide high-level evidence on sentinel lymph node dissection's effectiveness, benefit and harm to patients and will determine the value of retaining or discontinuing this procedure in the treatment of apparent early stage endometrial cancer.
This approved trial is open for recruitment in January 2021 at the Royal Brisbane & Women's Hospital and the Wesley Hospital. The first patient was enrolled in February 2021 with 759 patients to follow in the next 33 months.
Masterclass: SNB in Endometrial Cancer - 18 July 2022
Recently we ran a Masterclass in SNB for Endometrial Cancer.  To watch this recording, register here and use passcode g+rfG%3E to view.